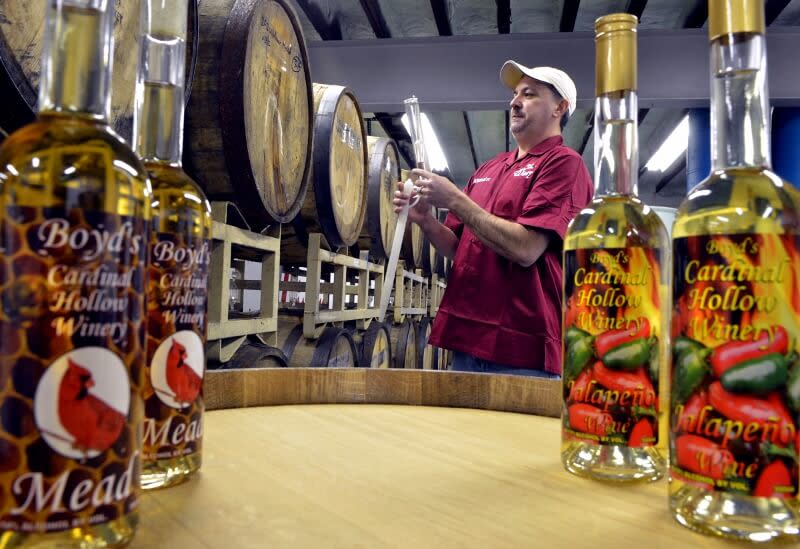 Follow Cardinal Hollow Winery on Facebook to check out their upcoming events!
If you've been searching for amazingly unique wine and a fun and welcoming atmosphere to taste it in, look no further than Cardinal Hollow Winery. Owner and wine-maker Christopher Boyd began his journey into wine as a hobby, making small batches in his basement. After outgrowing his basement with considerable gallons of wine, he decided to transform his hobby into Cardinal Hollow, presenting you with a tasty selection of one-of-a-kind vino.
The Famed Jalapeno Wine
You've probably sipped your fair share of merlot in the day, but have you ever tried Jalapeno wine? With a passion for crafting something out of the norm and with unparalleled creativity in his blood, Christopher fashioned the now-famous Jalapeno wine.
This spicy concoction will make itself known until the second it hits your stomach. Even if you're not a fan of this pepper, you'll surely remember this wine and the master who made it.
A Different Take on Tastings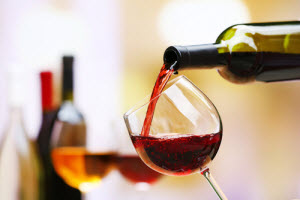 Cardinal Hollow offers their creations to all who enter their West Point Tasting Room. They have over 30 varieties to try for just $1.00 per sample, all in a fitting Tuscan-Village-style setting.
To make your tasting experience even more special, fun is literally surrounding you. Once you sit down with your choice of vino (or two or three), you'll find board games on the tables and jazz music drifting through the air. Is there a better place to relax with your loved ones?
More Than Just Wine
Though Cardinal Hollow proves they're passionate about wine in their tasty selection of vino, the fun doesn't stop there. They also offer beer on tap, as well as mixed drinks, crafted to perfection.
If you can't decide between sipping a glass of wine or indulging in a cocktail, order the Blue Agave Wine; it's truly the best of both worlds. This wine is made with 100 percent Blue Agave, which is found in the best tequilas. You'll get that tequila taste that you crave while enjoying 17 percent alcohol, similar to a glass of wine.
In addition to their beverages, Cardinal Hollow also hosts team building events, bridal showers, birthday parties and they even have their own chef and kitchen for full catering service!
Visit Cardinal Hollow Winery & Get Your Sipping on
Whether you're a wine connoisseur or just want to revel in a relaxing evening with friends, you now know the place to be. Make sure to give Christopher a wave while he's busy coming up with the next big wine trend!
Contact them at (215) 801-2227 or [email protected]
Q & A With the Winemaker
Q. What got you into wine making?
A. Its a hobby that turned into my second full time job so I work 7 days a week. Started making small batches in the basement of my house and the 1 gallon turned to 5 gallons that turned into 55 gallon barrels. One day I was working in the basement and counted up everything I had and it came to over 3,000 gallons of wine. Thats when I decided I better make this legal before I get arrested.
Q. What inspired you to open a winery?
A. see above
Q. Where do you find inspiration in developing the types of wine you produce?
A. Anyone can make Merlot and when you go to a wine tasting with different wineries, everyone has a Merlot. However, no one has a Jalapeno wine, or Whiskey Mead or Hazelnut Port or Agave (Tequila), etc. Even if you dont like the Jalapeno you will remember me for it.
Q. What would you say makes you stand out from the other local wineries in the area?
A. We always have fun and even have board games on all the tables so you can just come in and have a glass of wine or a bottle of beer or even a mixed drink, listen to Jazz music, play a game with your friends and have fun.
Q. What type of experience can customers expect when walking into your tasting room?
A. Over 30 varieties of wine to taste for just $1 per sample. Very nice relaxing Tuscan Village type of decoration, Oak Barrel tables and grape chandeliers. Fun time for all.
Sales and Leasing Representative Hours
877-372-1522
| | |
| --- | --- |
| Monday | 9:00 am - 9:00 pm |
| Tuesday | 9:00 am - 9:00 pm |
| Wednesday | 9:00 am - 9:00 pm |
| Thursday | 9:00 am - 9:00 pm |
| Friday | 9:00 am - 6:00 pm |
| Saturday | 9:00 am - 6:00 pm |
| Sunday | Closed |
Service Hours
877-504-4168
| | |
| --- | --- |
| Monday | 7:30 am - 7:00 pm |
| Tuesday | 7:30 am - 7:00 pm |
| Wednesday | 7:30 am - 7:00 pm |
| Thursday | 7:30 am - 7:00 pm |
| Friday | 7:30 am - 5:00 pm |
| Saturday | 8:00 am - 4:00 pm |
| Sunday | Closed |
Parts Hours
877-370-5441
| | |
| --- | --- |
| Monday | 7:30 am - 7:00 pm |
| Tuesday | 7:30 am - 7:00 pm |
| Wednesday | 7:30 am - 7:00 pm |
| Thursday | 7:30 am - 7:00 pm |
| Friday | 7:30 am - 5:00 pm |
| Saturday | 8:00 am - 4:00 pm |
| Sunday | Closed |